White Papers
eBook: A Guide to DocuSign eSignature for HR
People are an organisation's most valuable asset. And it falls to Human Resources to ensure that their business has the right people in place to maximise productivity and drive success. But doing so means overcoming the challenges posed by accelerating future work trends. These include remote and flexible working, shifting benefits and the rise of a more transient workforce.
Yet outdated paper processes and legacy systems are slowing down the crucial tasks HR must carry out. From handling large numbers of employee contracts to rehiring furloughed staff and communicating workforce policy updates, inefficient processes are reducing the value HR can add.
Now is the time for HR leaders to embrace digital transformation. An easy way to kick-start this change is with DocuSign eSignature–the world's number one way to sign documents electronically. Doing so will enable HR to streamline workflows and work smarter, not harder.
In this eBook, we will:
Reaffirm the importance of agreements within HR

Share the wide range of HR benefits that DocuSign eSignature can deliver

Highlight how eSignature is making a positive impact in HR at Virgin Holidays and m|ployee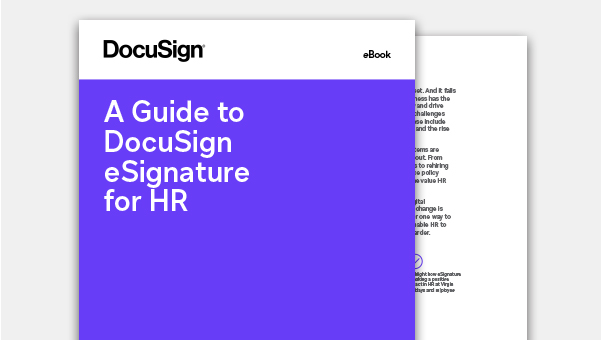 Please register to view the White Paper