White Papers
eBook: Top Three Advantages of Choosing DocuSign to Support your Sales Organisation
Today, sales professionals spend just 34% of their time doing what they do best: selling. That's according to Salesforce's State of Sales report 2019. In other words, your salespeople only spend 20 minutes selling each hour.
That's a huge amount of time being spent on other tasks: waiting on contracts to be signed, searching for clauses, manually managing all sorts of documents. The list goes on.
Something clearly needs to change. And, as greater numbers of people experience remote working and discover the benefits, organisations face growing pressure to build more flexible working practices into corporate life.
It's time to transform how you do business. It's time to upgrade your customer and contract management. It's time to close more deals.
Read the eBook to find out how your organisation can: 
1) Better spend your time, effort and resources
2) Improve your customer and contract management
3) Close more deals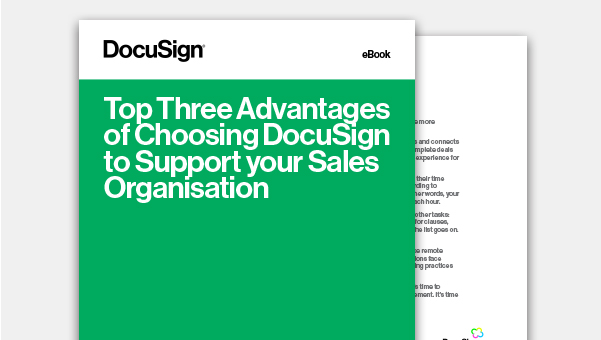 Please register to view the White Paper