White Papers
How to integrate DocuSign - A guide for your IT team
A smooth integration is key to the success of any digital transformation project. Many organisations need to increase efficiency, improve customer satisfaction, and grow revenue.
One of the main ways for a business to achieve these goals is by automating its system of agreement. When your IT processes are streamlined and automated end-to-end as part of a modernised system of agreement, it can improve overall business performance.
Today, CIOs and technology leaders play an integral role in business strategy and operations.
In this eBook, we'll give an overview for IT leaders on how to integrate DocuSign and cover: 
Best practices in IT
How integrating the DocuSign Agreement Cloud with your processes and other apps and APIs can improve business results
How to identify what you need for successful and secure integration
How other IT teams utilise DocuSign to accelerate and simplify key workflows
How to prioritise and implement integrations
How to get your team on board with successful digital transformation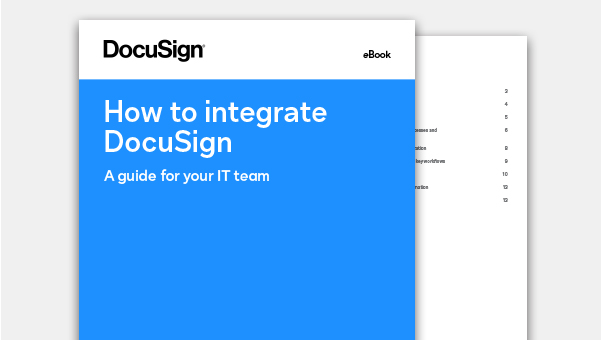 Please register to view the White Paper